Being it's the time around Matthew's first birthday I find myself being very notalgic for last year. Last night we were in Babies R Us to get a few things he needs for vacation and was remembering all the little teeny baby stuff we needed last year. Everyone thought we were crazy for taking him away so young. But in retrospect it will probably be the easiest vacation we took him on. We just needed a safe place to put him. This year, and all the years to follow, we have to worry about how to keep him entertained on vacation, which takes much more creative packing.
Last year it was so much fun to have a little tiny baby with us and to take pride in all the looks and comments we would get from people. This year will be so much fun because he can partake in the experience a lot more. From playing on the beach, to going to the aquarium to eating shaved ice at Mr. Steve's Fun Bus. I can't wait to experience this vacation through him and see how he enjoys the pool and the beach and the dog that will be with him. Not to mention 2 solid weeks of daddy being there when he wakes up. Since he has no concept of the week vs the weekend it is a thrill on Saturday and Sunday mornings when daddy gets him out of the crib.
Matthew on the beach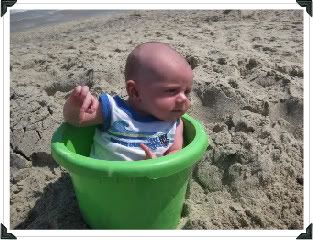 On a pile of watermelon at the watermelon festival.
and his first dip in a pool